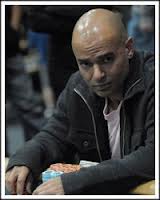 Around 18 months ago Zal Irani stepped down from his full time job as a Certified Financial Planner and decided the time was right to play poker for a living, and all we can say is that this brave move seems to have paid off. Irani beat a field of 301 players to become the Horseshoe Southern Indiana WSOP Circuit Main Event Champion taking home the coveted gold ring and a first placed prize of $106,103. It's his very first big tournament win although he hasn't done badly since going full time, after the great win he said, "I gave up a six figure job to play poker, now here we are a year and a half later and I have nearly $400,000 since then." He continued with, "I almost won my first ring in Hammond but it is really nice to finally get one, I will be heading up to Hammond next week to play some more, since that is my backyard."
Irani beat some quality players in winning the gold ring including a tough final table too. The large field meant 2 starting days and after days 1A and 1B, day 2 saw just under 100 players take to the tables with 33 money seats available. The day started extremely quickly and many notable players were eliminated with the field being halved within the first 4 levels of play. That pace was kept up and just over 6 hours later the final table was set.
Irani went to the final table in 6th place however put the pressure on early and built an above average stack quickly, and from there he never looked back. There must have been something in the air in Cincinnati as play remained fast and it wasn't long until there were just 4 players remaining. It was then that things finally calmed down and it took 4 hours for Ryan Jones to be knocked out in 4th place, before we had another 3 hours of play and Irani knocked Sean Lippel out in 3rd place. Heads up play saw Irani meet Michael Hahn and it all came to a conclusion when Irani's 2 pair held up against nothing but the hope of a flush from Hahn. It all meant that Irani went away with a smile and a nice payday.