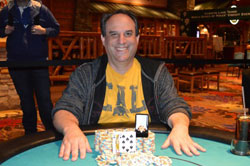 The Lake Tahoe World Series of Poker Main Event was won by amatuer player and retired hedge fund manager Dan Harmetz who picks up his first ever WSOP Circuit gold ring. He also took home a very nice $128,699 and a place in the WSOP National Championships to be held at Caesar's Palace Atlantic City. One aspect well worth noting regarding the final table at this event is that Harmetz incredibly knocked out every single player at the table.
The action was fast as Harmetz ploughed through the field at the start of the final table, and when play resumed on day 3, only 5 players were remaining. Harmetz started the final day in second place behind Ryan Rinker who eventually finished runner up, however Rinker possibly has the best story to tell about the whole event. Rinker came to the tournament as a sales manager at a car dealership, however due to the fact he came to play in the tournament he lost his job, and found out about that at 2.00 am the day before the tourney started. Maybe that news spurred him on to his second place finish and with the $79,531 he earned for second place he plans to travel a little and play some poker. He also takes Casino Champion honors as that second place shot him to the top of the leaderboard, meaning that he too will be playing in the National Championships.
Back to the action however, and it was Harmetz who continued doing the damage, slowing down only when we reached 3 handed play. That came to an end when Buchanan's 10's were well beaten by the kings of Harmetz and we were down to 2. Heads up play lasted just a few hands and it was Harmetz who took the glory with 2 pair against the pocket 5's of Rinker, and it's quite possible that the two will meet again at the National Championships in the spring.