Ryan Riess Wins WSOP Main Event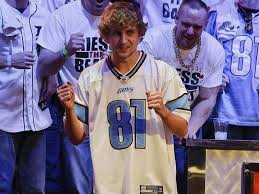 Ryan Riess has won the WSOP Main Event, the bracelet and the paycheck for $8,361,570. Only a year ago Riess took a chance and paid for his seat in the WSOP Circuit Main Event in Hammond, only to defeat all comers and take the ring...now he has taken it one huge step further and is the World Series of Poker Champion. Riess says that he has been dreaming of this day since he was 14 years old, when he saw Chris Moneymaker defy all odds and go from an online qualifier for less than $40 all the way to the top. Riess' story is similar and from a Michigan State student to a poker dealer to circuit grinder he has gone on to win the biggest event in poker.
It's a dream come true for this young player and credit must certainly go to his heads up opponent Jay Farber the Vegas VIP Host and amatuer player who himself had a pretty good day and collected a sweet $5,174,357, however the day most certainly belonged to Riess. Riess actually came into the final day with a smaller stack than Farber, however after a total of 91 hands of heads up play, Riess had Farber beaten to take the glory. From a field of 6,352 players that generated a prize pool of $59,714,169 and represented a total of 83 countries Riess came through, and what's even more impressive about Riess' win is that the final table was full of familiar faces and big time players such as J.C Tran, Amir Lehavot and Mark Newhouse, however the 22 year old....that's 22, held on.
This win underlines the importance of getting in there at the WSOP circuit level, of playing in the circuit events and grinding it out, and this win is as much of a success story for those events as it is for Riess. It's been a fairytale year for this player from East Lansing and to think that before this event he had a total of $317,000 in career earnings with the majority of that coming from his circuit win in Hammond. The win saw a huge celebration in the Penn and Teller Theater at the Rio Hotel with fans and friends of Riess going into a frenzy, and this is one WSOP Main Event that will be remembered for a long time. It will of course do wonders for the game of poker, and the story of a young player still learning his trade who took down the big one, is simply stuff of legend!