Carbon Poker's Last Man Standing Returns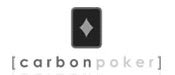 The ever popular Last Man Standing makes its inevitable return to Carbon Poker in February, running through into March. If you have taken part before then you will know the deal, simply play as hard as you can and watch those VIP points build up as you grind it out throughout the month. Over what will be a hard fought 58 days your poker stamina will be put to the test in this superb $32,000 promotion. To take part, you must of course be a member at Carbon Poker and visit the player admin section to register your name for the big bucks. This is a grind with a difference as you will need to play each day and earn enough points to qualify on the daily. Remember that extra points will not be carried over to the next day as Carbon want to reward their loyal players with this one. The points you will need to qualify will slowly increase as time goes by, really pushing your staying power, so keep your eyes on the chart after registering making sure you know exactly what you need to achieve each day to stay in the promotion. You do however get a bit of a break and Carbon are no slave drivers! You will get three free days, but should you miss four then sadly it's over for you this time round. Use your free days wisely as they will be taken away from you on the 17th of March, which is day 45 of the promotion and from then on its a play all you can grind. Should you not wish to use your free days, then you will be rewarded for putting in the extra hours. At the end of the promotion if you have one free day remaining you will receive $25, two days will bag you $50 and all three will reward you with a cool $100.
Play at Carbon Poker
If you are not already a member of Carbon Poker then sign up now to enjoy this and more exciting promotions that come along regularly. You will also receive a generous welcome bonus on your first deposit of 200% up to $5,000, plenty of free rolls and a jam packed tournament schedule featuring all of your favorite games. If cash games are your thing then Carbon has action at all levels around the clock.